Laser Therapy at Stott Chiropractic
Low-level laser therapy, also known as cold laser, is a safe, painless therapy that enhances the healing process and thus rapidly reduces pain. It is beneficial for a vast array of conditions including:
Chronic and Acute Back pain
Knee and hip pain
Bursitis
Rotator cuff injuries
Arthritic joint pain
Tendinopathies
Carpal tunnel
Muscle contracture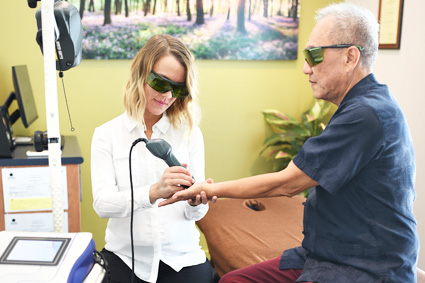 How Laser Therapy Works:
Safe and Effective
It is effective in accelerating the healing of chronic conditions as well as acute conditions such as in sporting injuries. It works via multiple pathways:
Reduces inflammation
Reduces pain and swelling
Prevents the formation of noticeable scar tissue
Cellular energy production
Induces myogenesis and tissue remodelling
Improves local blood circulation
What is Unique About Our Laser?
At Stott Chiropractic, we use Multiwave Locked System Laser Therapy, or MLS Laser Therapy, that uses a patented laser design and delivery system. This is a class IV laser and its use is approved by Queensland Radiology Health Department.
We are one of only a few clinics that use this laser in the Brisbane region. Our laser is produced in Italy and is commonly used in their hospitals to support healing of post trauma and post-surgical patients.
Contact us on (07) 3279 5252 to book your treatment!

Cold Laser Therapy Sinnamon Park, Jindalee, Westlake and Oxley, Mt Ommaney and Richlands QLD | (07) 3279 5252