Our Services
Chiropractic Care
At Stott Chiropractic, we are dedicated to providing natural healthcare for your entire family. Chiropractors Dr Andrew, Dr Anna and Dr Mike believe in patient-centred care that caters to your needs. With years of experience, we'll make our best recommendations in the appropriate treatment for you. We look at your current state of health, your history and your goals to ensure you get the results you seek.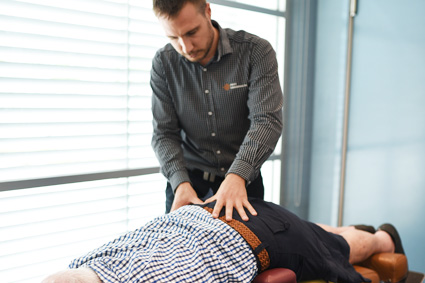 Feel Confident and Fully Informed
If you haven't been to a chiropractor before, you might be curious about what to expect. We'll start off mildly and mould the technique to what is appropriate for you. Rest assured that nothing is done without your consent. Each step will be explained to you before beginning.
Techniques to Suit Your Needs
Our chiropractors are well-versed in a variety of different techniques.
Our manual and instrument-based methods include:
Laser Therapy Available
We provide low-level laser therapy at our practice. Also known as a cold laser, it is a painless therapy designed to enhance your healing. It can be beneficial for a broad range of conditions such as pain in the knee, back and hip, bursitis, arthritis and carpal tunnel syndrome, amongst others.
Full Spine X-ray on site
X-Rays are very useful in helping us assess for Arthritis or degeneration in the spine. With the use of x-rays we can also assess your posture and biomechanically how your spine is functioning. We can detect abnormal curves in the spine, missing bones and even too many bones.
X-Rays are only taken when absolutely necessary, but provide an exceptional tool to complete the clinical picture of what may be causing your problems.
Metagenics and Exercise advice
We offer nutrition and exercise advice. Metagenics is a high quality Practitioner Only Natural Medicines product available in Australia and New Zealand. At Stott Chiropractic we offer a wide range of Metagenics products aimed at helping you boost your energy and well-being.
Our practice also has a designated area with exercise equipment that we use to demonstrate some of the exercises and stretches that your chiropractor may recommend as part of your treatment plan.
Schedule Your First Appointment Today
If you've been trying to cope with pain, contact Stott Chiropractic today. A member of our friendly team will get you booked in for an initial consultation with one of our chiropractors. Our location is accessible from the entire Western suburbs area. We have flexible opening hours that fit easily into busy schedules.
CONTACT US

Chiropractic Care | (07) 3279 5252