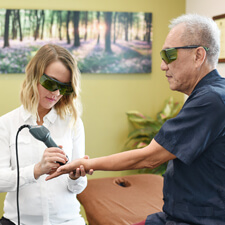 At Stott Chiropractic, we take a holistic view of your wellbeing, taking your full body needs into account at all times. In addition to chiropractic, we provide laser therapy to provide a well-rounded approach to your care with us.
We've chosen the Multiwave Locked System Laser Therapy, which is a Class IV laser that is approved by the Queensland Radiology Health Department. It's considered to be highly safe, effective and beneficial for a broad array of different ailments.
What Laser Therapy Can Do for You
Our laser works directly with the mitochondria within the muscle cells and tissue. As a result, it reduces inflammation, pain and swelling. Scar tissue is prevented from forming while cellular energy production increases and your blood circulation improves.
The many types of conditions that we often use our laser on include
Arthritic joint pain
Arthritis
Bursitis
Carpal tunnel syndrome
Chronic and acute back pain
Knee and hip pain
Muscle contracture
Rheumatoid arthritis
Rotator cuff injuries
Sporting injuries
Tendinopathies
What to Expect When You Get Laser Therapy
You'll sit or lie down comfortably depending on the area we are addressing. The laser will be applied directly to the site that requires attention. You won't feel any sensation while the laser goes to work. It'll be set to a certain intensity to penetrate deeply into the tissue.
Typically, you'll feel a change within 3-5 visits. The number of visits you require or the frequency of your sessions will depend on what you're seeing us for. For example, chronic conditions such as arthritis will likely need ongoing laser therapy sessions.
Sound interesting? Contact Stott Chiropractic today to schedule your first appointment!